$10.50
Big variegated chenille plied with black eyelash, very bulky and fun!
$8.15
Silky, shiny ribbon with subtle variegation
$6.25
Absolutely the furriest mohair around!
$4.75
Looped and brushed with occasional color changes -- furry fun at its best!
$7.25
Ribbon with color and texture changes -- very festive!
$4.75
This yarn changes color, texture, and even fiber content to create intriguing stripes.
$5.35
Variegated thick 'n thin yarn with a hint of sparkly metallic.
$4.15
A textured yarn with lots of personality
$5.35
Aran weight yarn with a gold twist to brighten things up!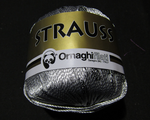 $7.50
Bright and shiny, with occasional thicker slubs -- great for holiday excitement!