$8.00
A lovely self-striping yarn with flecks of color interspersed
$4.75
Subtle self-striping is produced through a changing marl effect in this one-ply yarn
$4.75
Looped and brushed with occasional color changes -- furry fun at its best!
$8.35
Silky smooth ribbon with a nice glimmer. Very elegant!
$5.25
A shiny textured yarn perfect for spring/summer wear in an Aran weight gauge!
$5.50
"Soffio" is Italian for souffle, and this yarn knits up into just such a light, airy creation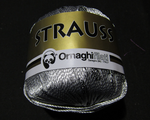 $7.50
Bright and shiny, with occasional thicker slubs -- great for holiday excitement!
$6.75
A chunky tweedy yarn with great stitch definition
$5.25
The classic fancy baby yarn, wrapped with viscose for a bit of shine.